Soft Spa Covers
Soft Covers are made with a double sided vinyl w/ non-woven polypropylene inner layer.
The Soft Spa Cover uses an inflatable AIR BLADDER to increase insulation value and provide a slope for rain water runoff. This can help protect it from the elements, such as hail, freezing rain, snow, children and pets
The Spa Soft Cover is an alternate cover for portable spas. With 4 models to choose from that fit 90% of all portable spas. Our Spa Cover is easy to use, no Styrofoam, easy to store with inflatable cover support underneath, and great for snow loads. Secures with 10 to 12 childproof locks.
The Soft Covers comes in GRAY ONLY. R-Value Rating 11-13
SHIPS UPS 3 to 5 days.
---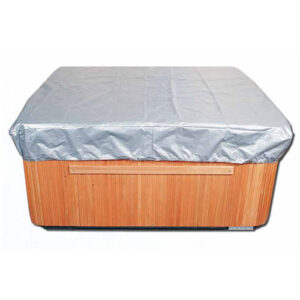 Hot Tub Cover Caps
The Cover Cap is made from tough, durable woven polyethylene and is designed to protect your spa or spa cover during the harsh winter months. When the spa is closed for the winter, the Cover Cap with a 38″ skirt fits over the rigid cover and is long enough to cover the sides of the spa skirt. The cover Cap is complete with nylon loops sewn into the hem and rope to secure it for the winter. When the spa is running all winter then the Cover Cap with a 12″ skirt and elastic sewn into the hem, fits easily over the rigid spa cover to protect it from the winter elements.
We can custom make Cover Caps for Round Spas, Swim Spas, Retangle Spas and many different size Square Spas.