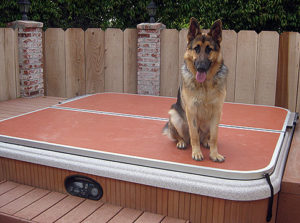 This could be the last Spa Cover you will ever BUY!  This aluminum spa cover can stand up to the worst abuse, such as gnawing dogs, active children, blazing sun or heavy rain and snow.

Our aluminum spa covers have been field proven for over 20 years and are still outlasting the competition.  Trimmed in Sliver anodized aluminum, they are available in 12 designer colors to coordinate with any spa decor.  The Deluxe Cover is a full 2″ thick for added insulating value and is protected by a limited warranty.

The Deluxe Covers are safety rated by Underwriters Laboratories and carry their UP Classification Mark.  UL consistantly monitors production for quality and consistency of materials to ensure that you get the quality you expect.  When you see the UL Mark, you can be assured that the cover meets or exceeds the ASTM Standard for a Safety Spa Cover product.
To order an Aluminum Spa Cover on-line, visit our new web site at http://www.aluminumspacovers.net or call us at 1-800-204-6958.
Cover Features:
The cover is made from an aluminum and foam sandwich core.
The top surface is aluminum with a baked on enamel painted finish (like the hood of car). There are twelve designer colors available to coordinate with most spas and backyard color schemes.
The inside is foam for insulation.
The aluminum top and bottom are embossed to hide scratches and maintain the quality look of your cover for many years.
The outer edge is anodized aluminum for longer lasting beauty.
The seal works much like a refrigerator, with a positive suction on level surfaces.
The seal must be measured to sit flush on a flat surface to seal, this also keeps the aluminum edging from scratching acrylic spas.
Insulating value of R14
A rubber gasket around the edge assures a positive real to your Spa for maximum heat efficiency.
This is a sealed spa cover, so pests, bugs and rodents can not invade the spa.
There are no problems with mildew or odors that are associated with other covers that may soak up water.